The first beer that I ever truly loved was Guinness Irish Stout. It was served on nitro in a small Irish pub in my neighborhood in Phoenix. It was then and there I found my love for stouts and porters. The chocolate notes of the malts come through in these styles of beers. I much prefer the sweeter and bolder flavors of malts over the bitterness of hops. I experiment all the time using beers in cooking – everything from adding a stout to my moose meat when it goes into the slow cooker or Instant Pot to making Guinness ice cream… so SO good!! Guinness is great to use in cooking as it is a thick, delicious, and pairs quite well with desserts and thicker meat cuts. Read on to find the 15 Guinness Stout Recipes that will Blow Your Mind!
Disclosure: This post not only shares delicious recipes, but also has Affiliate Links that I earn commissions from. This is how I make a living and keep this little blog running. Thank you for supporting me! I appreciate it. Much love, Kristi.
Don't be afraid to add a little into your recipes or to try an entire meal with with this Irish beer. It is only fitting to break out one of these recipes for St. Patrick's Day! Which one are you going to try? I have a ton of salmon in the freezer so I definitely want to try the Salmon with Guinness reduction and those Guinness marshmallows need to get into my mouth already!
Did you know Guinness has an entire line of products on Amazon? I didn't either. I need to try this Guinness Sauce and those Guinness potato chips!! Eek! I LOVE potato chips!
Don't have time to run to the store and grab a 6-pack of Guinness? Guess what, you can have it delivered right to your door. Seriously!! I had no idea this was a thing. Saucey is an online alcohol delivery service. I've died and gone to beer heaven!
Want to try out Saucey? Here are two different offers I found:
Now for those Guinness recipes… they all look so good!! I can't wait to try them all out this week. Yep, I have big ambitions for my kitchen this week! 😉
15 Guinness Stout Recipes That Will Blow Your Mind
Guinness Chocolate Cheesecake Recipe
Make your own Guinness Jello Shots
Homemade Guinness Double Chocolate Ice Cream
Guinness Chocolate Cake Recipe
Double Chocolate Muffins with Guinness Stout
Salmon with Guinness Reduction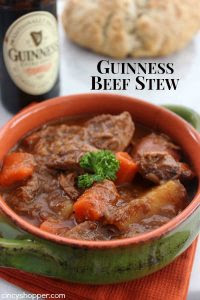 Pin for Later: